Sometimes, applications or utilities which start automatically and run in the background of Windows can adversely affect PCmover's operation or its connections. Use a Clean Boot to identify such conflicts and prevent such apps from starting.
///
Press the Windows key and hold it.
Press the letter R

In the Run command box, type msconfig and press Enter.

In the System Configuration window, click the Services tab, select the checkbox labeled Hide all Microsoft services, wait for the list to refresh with the non-Microsoft services, then click the Disable All button.

ATTENTION: If you are using PCmover, you would need to enable the 'PCmoverService' service back as shown here: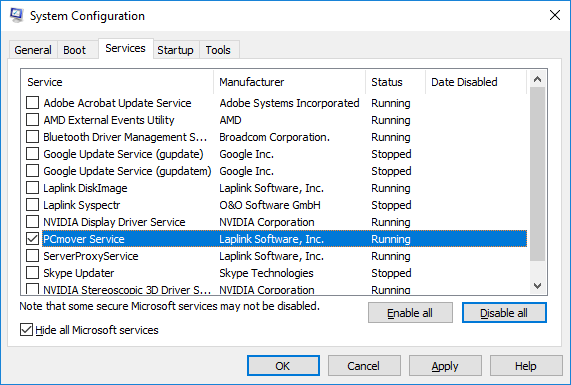 5. Click the Startup tab, then click the Open Task Manager link located in that location.
6. The Task Manager will open directly in the Startup tab. Select each item listed one at the time and then click the Disable button in the lower right hand corner.
Verify that the status of each item in the list has changed to Disabled. If so, use the 'x' button in the upper right-hand corner of the dialog to close the Task Manager.
7. You should be back at the System Configuration interface. Click the Apply, then the OK button. You will be prompted to restart the computer. Save all documents and data you need to save and then click Restart.